Google review requests can be bothersome and annoying if not communicated to clients effectively. Particularly in today's day and age, honest and independent Google reviews matter.
Google reviews have become an essential tool to a business's success; strengthening its reputation while boosting site rankings, overall online business searchability/presence and generating a source of trust for potential future clients and customers when making purchase/enquiry decisions.
In this article we identify 4 practical yet professional ways to ask for a Google review, answer 3 frequently asked questions of our broader client base as well as providing you with effective and proven Google review request templates that will effortlessly improve your business's online presence.
Common Google Review Questions
The 3 questions we have been most commonly asked in relation to Google review requests, and the ones we feel should be addressed, are;
1. Are Google reviews important? Why do they matter?
Yes ! Google reviews are important ! Google reviews are the 'word of mouth' referral for search engines. They matter because in the physical world, we as humans act and rely on word of mouth referrals more-so than any other form of advertising.
2. What are some benefits of obtaining customer Google reviews?
When obtaining a new Google review, not only is the existing customer/client recommending you and your services within their network of friends, family and colleagues, but they're generating a direct and purposeful review to one of the world's widest audiences.
If you're delivering your business model and service or product in a way that benefits your clients and customers, these reviews will easily boost your Google My Business notoriety and future pipeline of work by influencing the purchase and enquiry decisions of others. Let the reviews work for you ! If you are not setup on Google My Business, see the easy-to-follow tutorial of ours here.
3. How do Google reviews improve your online presence?
Google reviews are fundamental to the Search Engine Optimisation (SEO) of a business. SEO revolves around the "organic" ranking of your business, "taking a piece of online content and optimising it so search engines like Google show it towards the top of the page when someone searches for something".
More organic content at a higher frequency (like Google reviews) = more chance of your business and its content ranking higher on related Google searches, boosting your business's online presence. A higher ranking/optimised presence therefore means more views of your posts and pages !
The most frequently asked question of them all…
What are the best ways that I can ask for a Google review?
Our 4 recommended, most effective and professional ways to communicate a Google review request are;
1. In person while in conversation
If you already have a face-to-face relationship with your client/customer, we believe that an in-person request within general conversation is one of the most effective ways to communicate a Google review request. If a level of trust has already been established between parties or a satisfactory transaction has taken place, it is from this point onward where we see it sensible for your Google review request to be communicated.
What is the worst that could happen here? Your client either says yes and doesn't submit a review (which you can kindly follow up), or they simply say no !
2. Automated
Automation of any process, if done properly and tastefully, is almost guaranteed to generate efficiencies in day-to-day business operations.
Firstly, automating a Google review request through your business's email marketing program (assuming one has already been established) is one useful and effective way to efficiently reach customers that have recently made a recent purchase decision and who are still in a transactional frame of mind. Establishing a trigger event through your marketing program can generate a scheduled Google review request to be sent directly to a client's email.
An example of this would be a review request email that follows, or is included in, a client's invoice email. If you are not familiar with email marketing services, popular and reputable companies that specialise in this service include Mailchimp, ActiveCampaign and HubSpot.
A second example would be if a client changes from a 'Lead' to a 'Client' in your business's CRM. This could be established as a 'trigger' event that automatically sends out an email to the recently onboarded client. Further, if you have a web-based shop, another example would be to configure a pop-up either in your shop's checkout or on the website's landing page once a transaction by that client has been detected.
One thing to remember – automated Google review requests through a program or platform are also trackable, tweakable and can be easily managed. Below, we've included two proven Google review example templates that will guide you and your business through a successful Google review invitation process.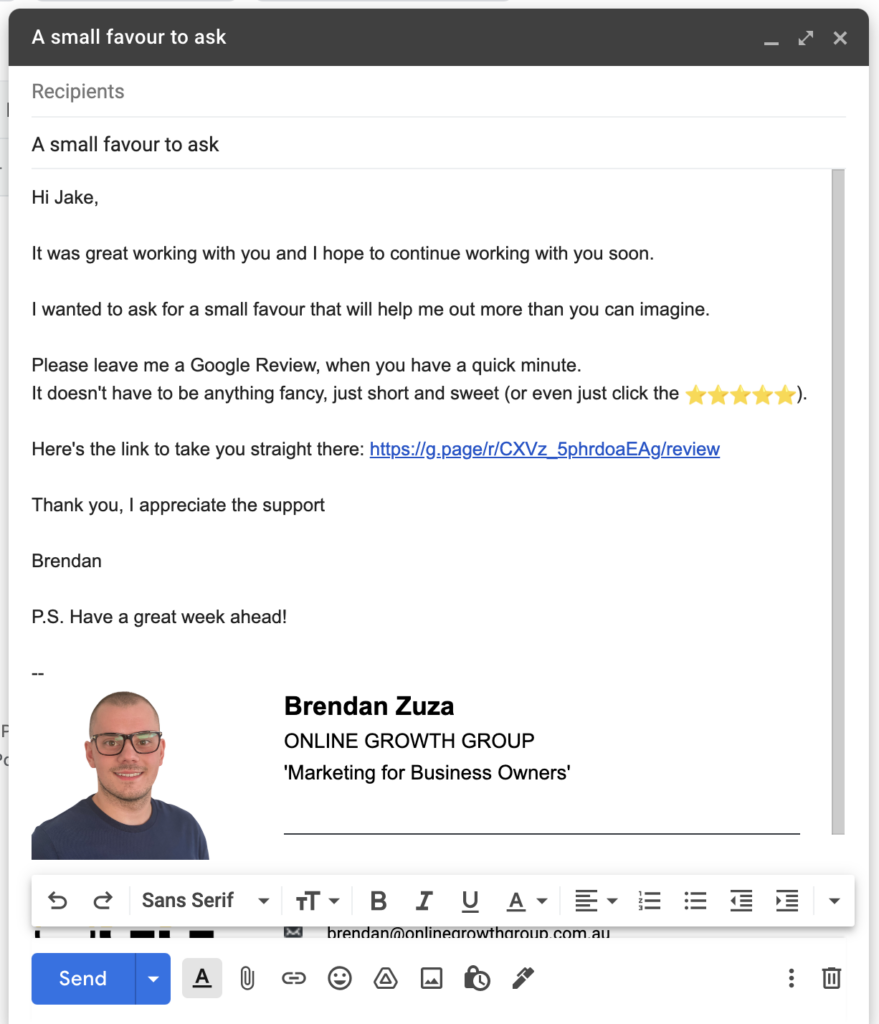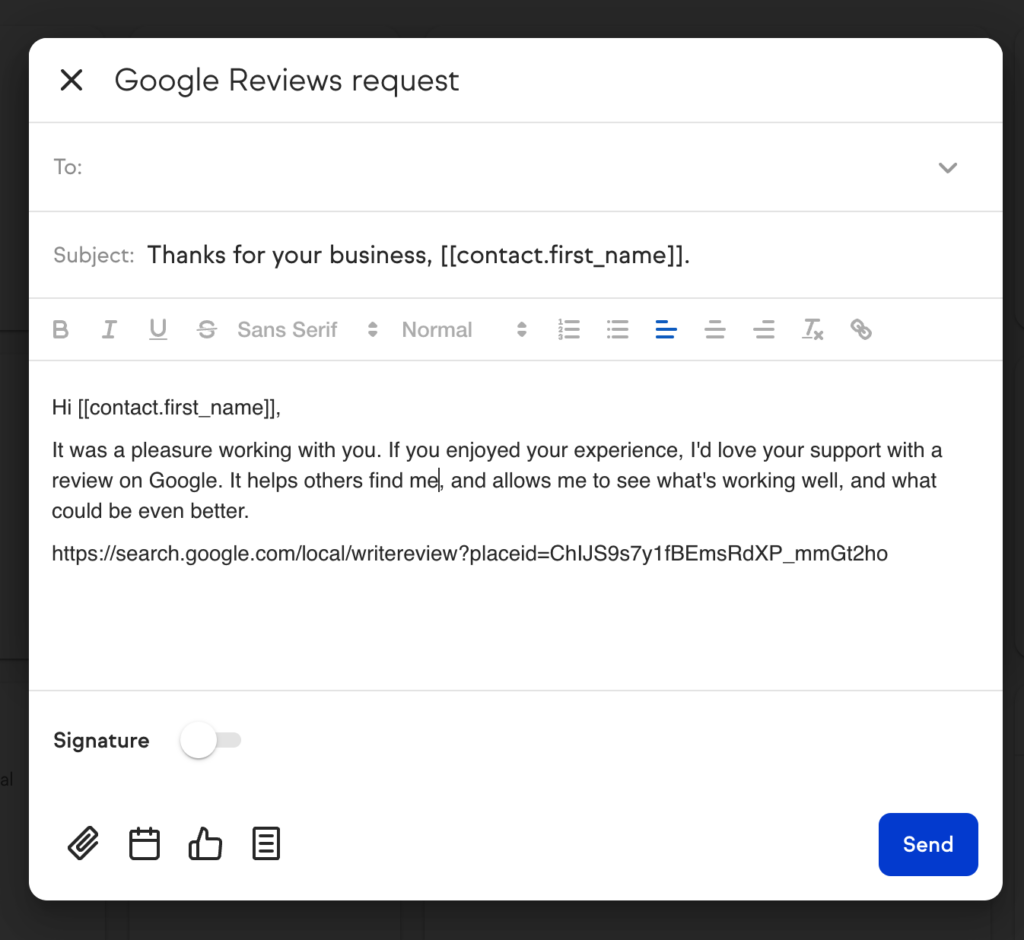 3. Direct Message (DM)
For clients of yours whose main platform may be social media, it could prove more effective to reach them via DM. The current popularity of Instagram, LinkedIn, Facebook or TikTok is unmatched – it is most likely the case that your social media-based clients and/or their response teams track DM activity just as close as they track email.
The benefit here is that you can also afford to be more casual with your request. If you believe it is better to go with the more professional approach, then applying the templates above to a DM can be just as suitable !
4. Physical Cards
Even with the technological advancements of today, there is still a charming element to the use of a business card. With it generally comes a firm handshake, a smile or even an agreement to discuss possible business development.
Technology however has still had its evolving impact on this small piece of plastic wrapped paper, with QR codes and social media details now also being included on them as another medium of communication. Including a QR code that directs clients to your landing page or directly to a Google review URL is a straight-forward and interactive way for the client to hold your details on them personally, while also enabling them to review their recent interaction(s) with you and/or your staff.
Try it for yourself and scan the Google review card in the image below ! Easy, right?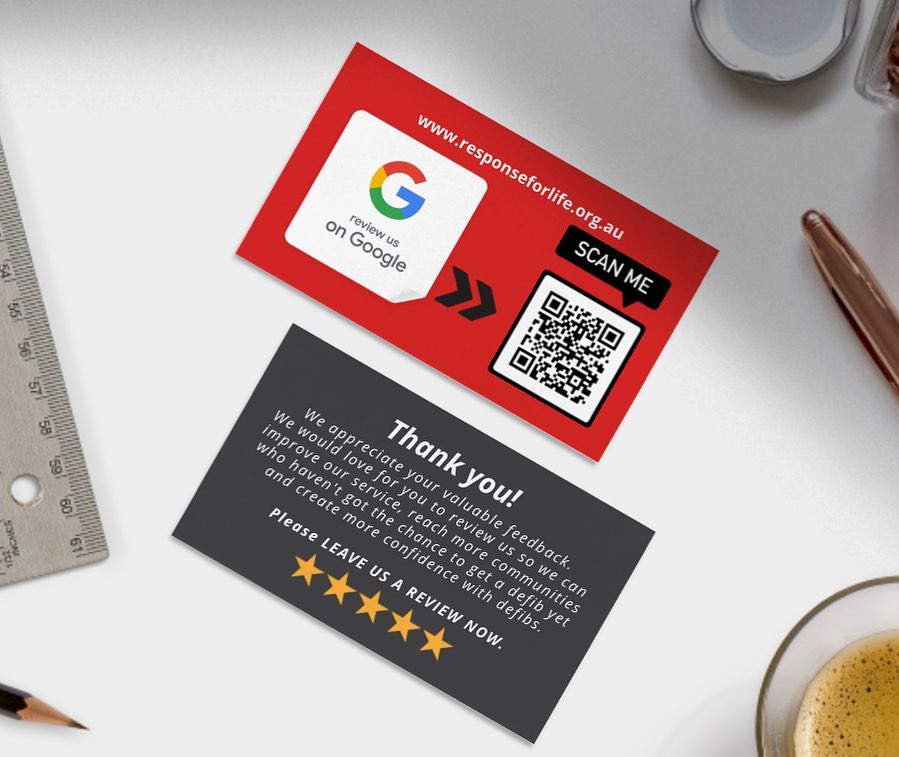 Final points to remember when communicating Google review requests
Does the medium you've chosen to request the review come across naturally?
At what point in the business relationship are you?
Is it a suitable time/situation to make your review request? Correct timing is a big factor !
Do you have a type of review response strategy in place, regardless of whether it is a positive or negative review?
We hope these tips have helped you in your efforts to organically grow your business's online presence.
Should you have any further questions relating to this blog post, please feel free to reach out to us through any of the mediums to the left !
OGG