A bane for any business's existence is customer churn: "the percentage of customers that stopped using your company's product or service during a certain time frame… [calculated] by dividing the number of customers you lost during that time period — say a quarter — by the number of customers you had at the beginning of that time period". It is vital for businesses to understand the reasons clients leave you in order to sustain a consistent and steady flow of clients and consistently shift to meet customers changing needs.
At times it's very easy to take the departure of a customer personally, especially if you are a passionate and committed business owner. What a business owner must understand is that more customers are lost through business owner inaction rather than the actions they took in their efforts to satisfy the customer. Understanding this is essential to understanding customer churn, as it assists you in anticipating, identifying and minimising possible increases in customer attrition before being left with a churned customer base.
In this blog post we identify the 3 primary reasons clients leave you (identified by Jay Abraham in the MasterMind Marketing System), as well as acknowledging the catalysts driving this customer decision making and, with examples, demonstrate how you can provide intuitive solutions to address it.
The 3 Primary Reasons Clients Leave You: Identified
1. The Customer is Simply Busy with Life
Although it's never the first reason that comes to a business owner's mind when losing a customer, it's mostly the case that customer's lives get very busy no matter what you do or who you are.
Life interruptions are inevitable, whether it be to a person's finances, health or even career. Interruptions to any of these means that habits and schedules are also interrupted and re-calibrated, including their habits as a client of your business!
Being aware of this helps business owners understand how effective simple measures of communication can be for the longevity of customer relationships. Efforts to check-in with existing clients through phone, letter or e-mail campaigns (even if it is automated) are quick ways for you to easily boost client engagement.
The satisfaction with your level of client engagement can easily be gauged at the same time by either including a Google Review link on the same form of communication (if applicable) or to simply ask them directly and if there is anything you can do to improve your level of service.
Continually connecting with clients in this way, and doing so with genuine and sincere intent, will assist in minimising customer churn as well as making the customer feel more valued and therefore more loyal to your business.
2. The Client Had a Bad Experience with Your Business
Ensuring your customer experience is a memorable one, for the right reasons, is vital to the longevity and development of your business; especially given that your clients are in the drivers seat of the business relationship.
Disregarding the importance of your customer's experience will result in greater levels of customer churn. According to a PWC study, 1/3 of consumers will stop purchasing from a brand they have historically loved after just one bad experience. In contrast, the same study revealed how much customers are willing to pay if they receive a premium customer experience;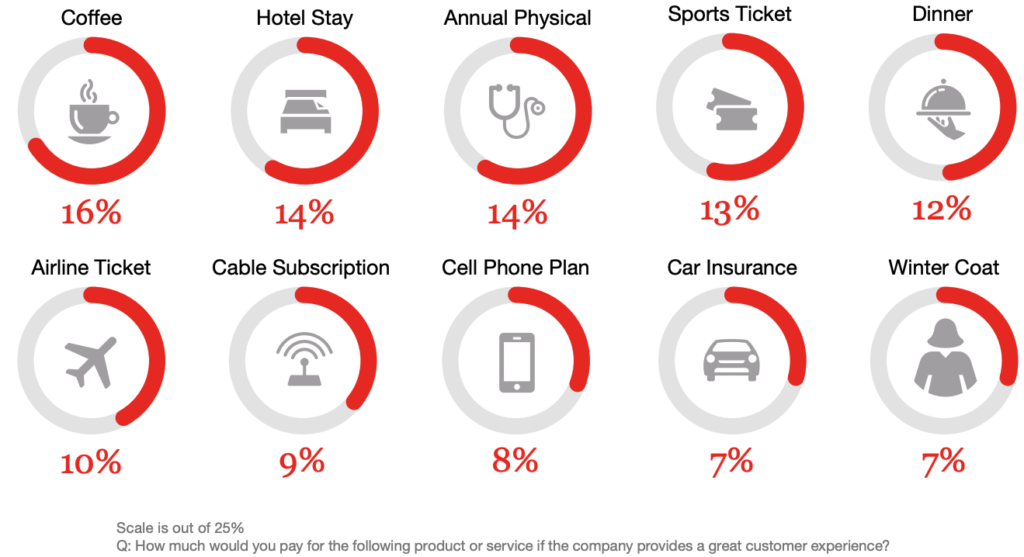 Statistics like these should be the motivation to continually review the goals of your customer experience, to ensure those goals are truly targeting what really matters for the client! (More on this point later in the post).
3. Over Time, the Customer's Needs Have Changed
Change is inevitable in all aspects of business, particularly so with the ever-growing demands of today's consumer society. The trickiest element of these changing demands is the pace in which they evolve, with personalisation and convenience for the consumer being the main drivers moulding the future outputs of your business.
By understanding current needs of the customer (which we'll tell you how to consistently do in real-time, below), you can recognise how well your products/service are actually meeting them. If you don't, customer churn rates will increase as your existing clients/customers find someone/thing that better addresses their needs.
These changes in consumer behaviour are uncontrollable, however, what you can control is how agile your business is in adapting to new consumer demands and ultimately minimising the customer churn.
The following practical applications demonstrate how you can actively address a drop in customer buying activity, fortify client relationships following a bad experience and ; all occurrences that, if not addressed correctly, lead to an increased rate in customer churn.
How to Minimise Customer Churn
When minimising the churn, proactive communication and consistent collection of feedback are key to measuring your customer's experience and satisfaction. By doing so, you can determine how satisfied your customers are and whether or not your products are satisfying their needs.
Here's a few scenarios to test your company's response to the above 3 primary reasons customers leave you. Write a solution for each and try use this in your business.
Scenario 1
You own and operate a physiotherapy practice. You note over time that one loyal client in particular who would consistently schedule weekly treatments no longer calls or visits to book.
Solution:
Scenario 2
You run an online clothing store and you have been made aware that a client has recently rated your customer experience as poor on a Google Review.
Solution:
Scenario 3
You own and operate a gym nutrition business. You realise over time that the inventory turnover for your protein powders has rapidly declined in the last 12 months.
Solution:
Conclusion
Keep aware of customer behaviours and buying patterns – Feedback is key 🔑
Measure customer experience:

Analyse reviews and satisfaction surveys
Ask customers for product and service feature requests

When customers needs change – don't forget them or desert them… understand how why and what you can do to help gain them back
Remind customers to stay consistent and keep purchasing from you (when it's in their best interest)
Respond genuinely to customer feedback, especially if it's negative feedback
Additional Sources

Source: The Economist – In Brief: Shifting Customer Demands