Establishing and maintaining your business's presence online is a task requiring consistent and agile management over time. In ways, these long-term campaigns can become extremely costly; particularly from a financial perspective. Although your business may be generating strong revenue/sales figures, online marketing management (if not done correctly) can significantly eat away at your hard-earned net income. Luckily, we've been able to identify a handful of free Google Marketing Tools that minimise the chances of this occurring for your small business!
The free Google marketing tools we outline below are convenient and useful resources. Partially automating the management of your business's online marketing with these top google free tools will help your small business continually engage existing clients and attract new, enabling you to simultaneously manage the other aspects of your business while organically growing its online presence.
The top Google free tools that we believe are most helpful to you and your business are;
Google Analytics
Google Analytics is a platform made up of free google marketing tools that helps business owners better understand what can or is currently driving the search engine optimisation (SEO) of their business marketing, content and products.
It does so by identifying user patterns and providing basic information and metrics on data points for site visitor traffic; examples include the average time spent on your website per user and through what channel are the website visitors visiting your page from. These are only a small handful of the most popular metrics used, with the free tool generating endless points of information that ensure you truly understand your site and its users.
Google Analytics collects this data through its communication with a website's Analytics tag, collecting and sending data points to then compile the information into an easy-to-understand, visual and customisable dashboard/reporting layout for you and your business.
From a business owner's perspective, this data can either be used as a starting insight into how you can deliver a better business, or, as a management tool to keep track of your business's SEO performance. To join Google Analytics, it is as simple as having or setting up a Gmail account.
Google Search Console
Similar to Google Analytics, Google Search Console (GSC) is another free Google marketing tool that assists business owners in measuring and optimising their website's SEO performance. GSC does so by digesting site information and identifying possible issues with your website's visibility throughout Google search results. The most popular and unique feature of GSC is its 'Search Results' feature, which includes metrics such as average click-through rates (CTR) and website average position.
CTR is a simple mathematical ratio that gauges the conversion rate from when your site makes an Impression on a Google search, to your website securing that specific traffic flow. CTR is calculated as follows: (Website Clicks/Impressions)*100. Hint: The first key step here is to focus on growing your impressions; more relevant and valuable content = more impressions .
Google support best describes the definition of average position as; "The average ranking of your website URLs [in a Google Search] for the query or queries. For example, if your site's URL appeared at position 3 for one query and position 7 for another query, the average position would be 5 ((3+7)/2)". If you enable the pages of your website to be crawled/ranked/indexed by Google (another compatibility of GSC), then this will enable Google to place your website on searchable results pages.
Identifying these characteristics of your business's website and its presence will enable you to, moving forward, better identify any potential growth avenues that you and your business's marketing efforts can pursue to scale.
The same applies here as per Google Analytics, specifically that you will also only need a Gmail account to be able to access GSC's free services, dashboard and report outputs.
Google Business Profile
Formerly Google My Business or the Google My Business dashboard, Google Business Profile in our view is one of the most fundamental free Google marketing tools for your small business. Google Business Profile takes the age old adage "make your first impression count because you only get one !" very seriously.
How to use Google My Business / Google Business Profile? At no cost, setting up a free Google Business Profile enables you to personalise your business's first impression to those seeking on Google Search and Maps. Customisable and displayable information for potential and existing clients includes linked photos, business addresses, operating hours and even customer Google reviews ! (Our recent blog post here highlights the importance of Google Reviews to your business, as well as other ways to Ask for a Google Review itself).
Included below is a preview of our very own Google Business Profile, which acts as the front-door into our website and our services;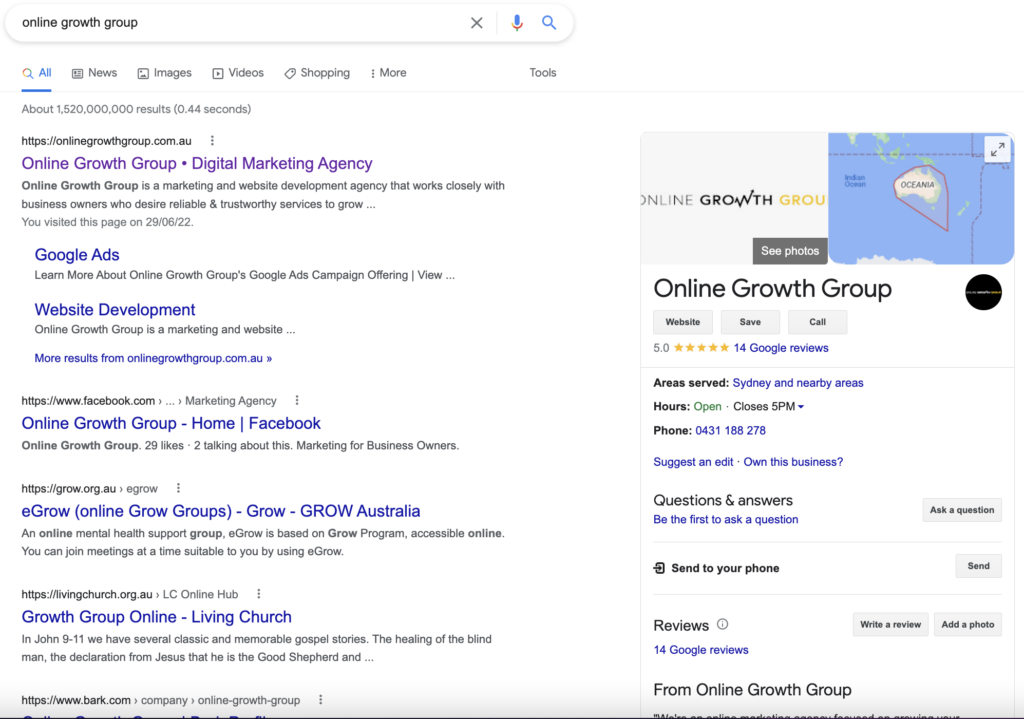 Make your first impression count !
Google Trends
Google Trends is another one of our favourite free Google marketing tools for your small business. The web-based search tool can help you identify popular/trending topics that have been searched in Google for a particular or for the current time-period.
Let's say you run an amazing online fitness apparel business; a simple Google Trends search of 'fitness apparel' will show you the unbiased and categorised global interest over time for the search, in real-time.
This data is most popularly categorised per geographic search location and can be overlayed with non-realtime (historical) periods for the same or even different searches, enabling you as a business owner to interpret the trending data points and better understand the effectiveness of your business's current marketing campaign.
Interpreting this data with the help of Google marketing tools will enable you to better suit your business's marketing campaign to trending behaviours and themes of the time, or even aid in your business forecasting. As previously stated, more impressions with relevant, organic and current content will generally result in a better CTR and a higher average position ! Keeping this in mind is essential when utilising Google Trends, marketing with Google Ads or with any other online marketing tool.
Google Shopping
Google Shopping is another service in our top free Google marketing tools list that allows your business and its products to be easily viewed online by possible future customers. The service does so by allowing online shoppers to browse a Comparison Shopping Engine (CSE) full of Product Listing Ads (PLAs). PLAs list all relevant products to the shopper's search, displaying a thumbnail photo of your product, its price and your business's name right at the very top of a Google Search page.
Having your business and its products on-board with Google Shopping has many benefits, with numerous Google and consultant/industry leader studies, including this one, concluding that PLAs do in-fact increase a business's product advertising efficiency, its brand exposure and the consumer's overall familiarity and trust of a business.
What's as important here is how Google continually re-configures its search page display – over time they've noticeably reserved more and more space for users of tools such as Google Shopping, Google Business Profile and Google Ads. In our view, utilising these free Google marketing tools is elemental to the success of your business.
If concerned about your website's CTR however, this may not be the most efficient tool. Google Shopping now enables customers to either checkout and purchase via a Google page or through your website's checkout page – this, in a way, can be seen as cannibalising your CTR if your organic website result is not making as many impressions as it was previously.
In terms of creating your new Google Shopping account, there are a few more steps involved with the set up. Creating Google Shopping Campaigns, optimising your product images for PLAs and establishing a Google Merchant Centre account are some of the additional steps you will need to go through here.
Google Ads*
Although Google Ads is a paid, pay-per-click (PPC) service tool*, there are elements of this service that are free and easily useable. For example, the Google Ads Keyword Planner is a useful and user-friendly resource within Google Ads that enables you to generate your own keyword database.
When marketing with Google Ads and its free tools, the keywords you utilise throughout your campaign will influence the success of your overall marketing strategy. Keywords are used to match your ad campaign to websites in the Google database that are most related to your keywords and your ads. Utilising relevant and appropriate keywords will help you establish a marketing campaign that reaches the users most engaged in your business's general product segment, meaning you're reaching those who are more likely to convert into future clients, quicker!
We hope these tips have helped you in your efforts to organically grow your business's online presence.
Should you have any further questions relating to this blog post, please feel free to reach out to us through any of the mediums to the left !
OGG